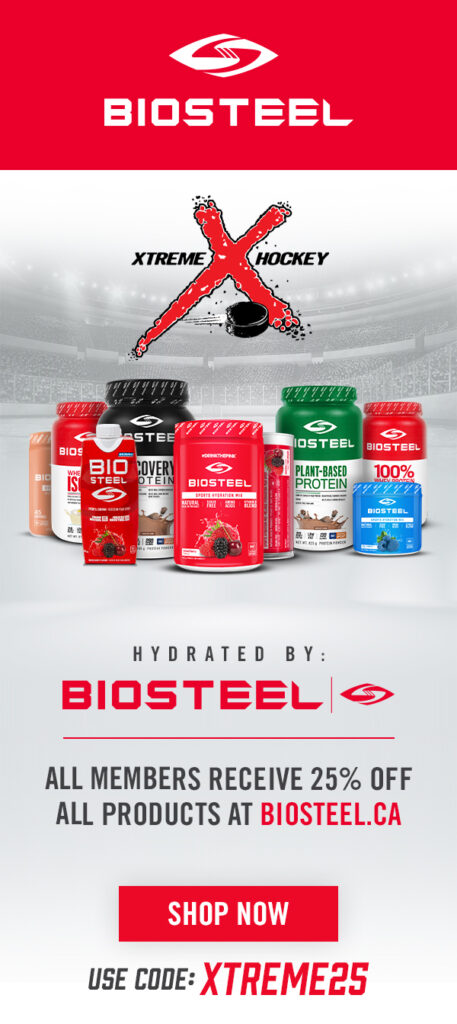 Xtreme Hockey / Powered by BioSteel
Xtreme Hockey is pleased to announce we have partnered with BioSteel Sports to become the official sports nutrition/hydration provider for Xtreme athletes.
Xtreme Hockey members will receive exciting offers and product through this partnership. To start off, we are pleased to offer Xtreme members a 25% off discount code to purchase BioSteel product.
Promo code XTREME25 can be used at checkout when purchasing any product through www.biosteel.ca
In addition to the promotional code, all Xtreme athletes who attend Xtreme summer camps will be receiving a BioSteel gift package, more information will be available closer to the camps start date (we don't want to spoil the whole surprise!)
Stay tuned for more exciting details!
BioSteel Site: www.biosteel.ca
About BioSteel:
BioSteel™ was established in 2009 with a mission to bring clean ingredients and high-quality nutrition to professional athletes across Canada and the United States. Long before anyone even knew the brand name, our original "Pink Drink" made its way into the most prestigious locker rooms in professional sports, popping up on TV screens and social media feeds everywhere. Affectionately known as #DrinkThePink, it became highly regarded for its premium ingredients and zero sugar formula. Now, BioSteel's mission is to create the healthiest and most trusted sports nutrition products on the planet. The best kept secret in sports is no longer a secret. It's Just The Truth!
BioSteel Endorsed Hockey Athletes (Including Connor McDavid, Tyler Seguin and the PWPHA)